Blood Pressure Data Acquistion Software
IITC software record's analyze's and reports the data from any of the IITC amplifiers for blood pressure studies. The final data is sent from the amplifier to the software program. The end-point selection is automatic for Systolic, Mean, Heart Rate while the Diastolic values are automatically computed. The user is always in control to override the automatic process by the click of a mouse. Data can be saved, ignored or deleted at the operator's discretion. Any test can be recalled, displayed, printed and modified as needed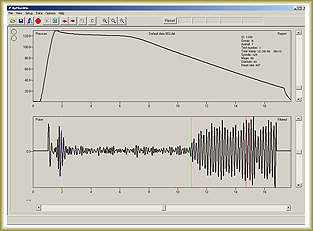 The software supplies ID number, Animal number, test number, date, time, Systolic, Mean, Diastolic and heart rate and Calibration is a breeze. Software can be used with manual, semi-automatic or fully automatic noninvasive blood pressure systems.

View Product Sheet
Features
Record, report and analyze data
Two channel recording capabilities
Report data can be imported to Excel
Test data recorded, displayed in real-time
Automatic evaluation of captured data
Our software has IITC built-in artifact filter and has user select frequency range's. A detailed report can be printed or imported into a spreadsheet at the end of a test. Software and analog to digital converter supplied. Software can control the cuff pump #20-NW and recognizes the animals number from the Scanner #65-12.
System Requirements:
Windows 98 or higher, serial port.
Demo disc available upon request.
One year warranty
120/240V
CE
| | |
| --- | --- |
| Part # | Description |
| 31 | Noninvasive Blood Pressure Software |

Single and Dual Channel Chart Recorder
The IITC 38L Single Channel chart recorder as well as the 45L dual channel recorder are ideal instruments for use in recording Noninvasive blood pressure in laboratory animals with of these systems. They also have a wide range of uses in the research, development and education departments as well.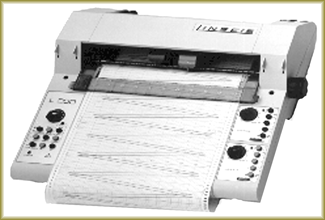 The "Plot" and "Home" function can set the pen back to the start for comparative measurements. The pen starts from exactly the same point of the chart in a repetitive form.

View Product Sheet
One year warranty
120/240V
CE
Specifications:
14 calibrated steps imv.
20V variable range: 40 to 100 % FS.
Input impedance 1M Ohm
Common mode rejection 130 dB
Zero adjustment: -50 150% FS
Zero suppression: 6 calibrated steps
Chart speeds: 0.1/0.2/0/5/1/2/5/10/20 mm/min. & mm/sec
Paper 25m roll (80 ft.)
External input: TTL level
110/220 switch selectable
Maximum input signal: 42VDC
Power Consumption: 30VA on single channel, 50 VA on dual channel
Matches CSA & VDE.
| | |
| --- | --- |
| Part # | Description |
| 38L | Single Channel Chart Recorder |
| 45L | Dual Channel Chart Recorder |