Plantar Test (Hargreaves method) Glass stands only
When large group studies, are required IITC offers either version of our glass stands to be purchased individually. Allowing users to quickly and efficiently test large study groups.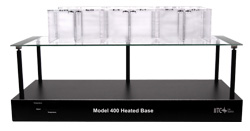 The two versions available -
6 rats/12 mice
2 rats/4 mice
- Supplied complete as shown with animal enclosures -
Both sizes are supplied standard -Black anodized base, 5 black anodized legs. Both sizes are supplied with the standard 8" legs. Tempered glass is placed on top. The clear plexi-glas animal enclosures are placed on top of the glass and allow unobstructed views of animal subjects during testing.
*Due to the fact that glass acts as a heat sink*; IITC developed the only commercially available heated glass. Warming the glass eliminates the heat sink problem, thus animals are placed onto the slightly warmed glass. Built in temperature controller in the heated base version keeps glass at a constant temperature between 30-40 deg. c which can be adjusted by user as needed.
Three individual, acrylic animal enclosures are supplied. Each enclosure allows for 2 rats/4 mice allowing testing of up to 6 rats/12 mice total. Enclosures have strong magnets to prevent animals from possible escape, individual lids, clear dividers in between test subjects.

View Product Sheet


Part# 402 Glass stand

Part# 433 Animal enclosure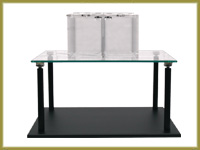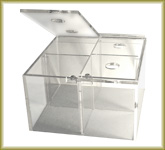 Dimensions
Large base 36" X 16"
Small base 18"X16"
Two year warranty
120/240V
CE
| | |
| --- | --- |
| Part # | Description |
| 400 | Plantar test glass stand (12 mice 6 rats) non-heated |
| 400G | Plantar test (12 mice 6 rats) heated |
| 402 | Plantar Test Glass Stand (4 mice 2 rats) non-heated |
| 402G | Plantar test glass stand (12 mice 6 rats) |
| 433 | Replacement Animal Enclosure (4 mice 2 rats) |
| 435 | Replacement Animal Enclosure (12 mice 6 rats) |