The Capstar-100 Carbon Dioxide Analyzer provides continuous measurement of expired CO2 over the range 0-10 percent. Its rapid response time, small sample flow requirements, and long-term stability make it ideal for respiratory gas measurement of rodents and larger animals.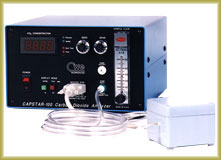 The heart of the instrument is a miniature infrared analyzer with exceptional stability, low maintenance, and a linear output. The heated measurement cell prevents water condensation. The SensorPod, which contains the infrared measurement cell, attaches to the front panel by a 1.5m cable. This cell can be removed for cleaning, inspection, or replacement in minutes. The digital display shows CO2 concentration in percent or mmHg, and allows breath-by-breath peak end-tidal reading or continuous rapid response. Calibration is performed with a single calibrated gas and room air.
The reliability and ease of operation of the CapStar-100 make it the perfect instrument for routine respiratory CO2 monitoring. It is the natural companion to our SAR-830 series Small Animal Ventilators for monitoring respiratory status. With the AVS-1 Advanced Ventilator System, it can control end-tidal CO2. It can also be used to monitor unassisted animals. Gas sampling rates of less than 30ml/min can be used, making it possible to monitor animals as small as rats. The fast response time of the CapStar-100 allows end-tidal response plateaus with respiratory rates of 100 breaths/min.
A range of accessories is available to ensure easy setup and convenient operation. An accessory pack containing sample tubing, moisture traps, and Nafion® moisture-absorbing sample tubes is included with the instrument.
One year warranty
120/240V
CE
| | |
| --- | --- |
| Part # | Description |
| 11-10000 | CAPSTAR-100 CO2 Analyzer, complete with accessory kit , 120/240V 50/60Hz |
| 11-01100 | Replacement CO2 sample cell |
| 11-01101 | Accessory kit; 2 moisture traps, 2 13mm hydrophobic filters, 1 sample line, 2 Nafion®. sample lines (6" and 2') |
| 11-01102 | Sample line, plain, 5', with male Luer-loc connectors |
| 11-01103 | Sample line, 2' Nafion® tubing (absorbs and evaporates condensed moisture), with Luer connectors |
| 11-01111 | Sample line, 6" Nafion® tubing, with Luer connectors |
| 11-01104 | Sample tubing, .040" ID Tygon™, 10' coil |
| 11-01105 | Luer-loc adapter, .040" - .062" ID flex tubing to male Luer, pack of 5 |
| 11-01106 | Luer-loc adapter, .125" ID flex tubing to male Luer, pack of 5 |
| 11-01107 | Moisture trap, male-female Luer-loc connectors |
| 11-01108 | In-line miniature (13mm) hydrophobic filter, Luer male-female fittings |
| 11-01110 | Calibration gas, 4 liter aerosol can, 5% CO2, 20% O2, balance N2 |
| 11-10001 | Serial Port, RS232 Serial data port, with cable |