The technique of using these cannulas is for conscious, relatively unrestrained, rats with indwelling cannulas. Rats prepared with chronically implanted cannulas avoid possible adverse influences of anesthesia, acute effects of surgery, and stress from handling and restraint. Drugs can be administered by many routes: Intravenously into the general circulation, into the portal vein, or internally into the small intestine. Non-irritating drugs can be given subcutaneously or intraperitoneally. Systemic venous blood (inferior or superior vena cava) and portal vein blood can be sampled. If pulmonary metabolism is not a factor, an aortic cannula provides the equivalent of a mixed venous blood sample.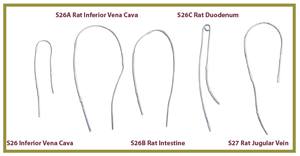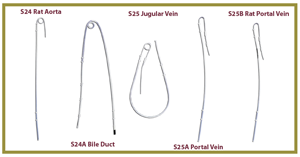 Chronic venous cannulas in rats were developed initially for self-administration of drugs in experimental addiction. Drugs with a short duration of action and powerful acute effect pose a special problem when safety tests must be by the intravenous route.
The IITC catheters come in 10 different types. They are comprised of PE10, PE20 and Silastic. The catheters can be ordered in either a "hybrid end" or "reinforced end". State which ever option when ordering the selected catheters. In addition all IITC catheters have a flared end.
In addition IITC carries a full line of accessories for the IITC catheters. They include plugs, connecting tubing's, U tubes, blunt end needles.
The IITC catheters can also be customized. In order to process a custom order a drawing with exact dimensions must be supplied with the order.
Sold in packs of 10
| | |
| --- | --- |
| Part # | Description |
| S24 | Rat Aorta Catheter-PE20 150mm long, PE10 cut for intravascular portion 12mm |
| S24A | Bile Duct Catheter to be used with the S26C Duodenal Cannula |
| S25 | Jugular Vein Catheter-PE20 170mm, PE10, 65mm, Silastic 0.025" OD 37mm |
| S25A | Portal Vein Catheter-tip beveled for injections or infusions, PE20, 140mm PE10, 40mm, Silastic 0.025 OD 25mm |
| S25B | Rat Portal Vein-tip blunt level for blood sampling, data the same as S25A |
| S26 | Inferior Vena Cava Catheter-via laparotomy, PE20, 50mm, PE10 40mm, Silastic 0.025" OD 80mm |
| S26A | Rat Inferior Vena Cava Catheter-via femoral and iliac veins, PE20,100mm, PE10 100mm, Silastic 0.025" OD 70mm |
| S26B | Rat Intestine Catheter-for injections/infusions, PE20, 75mm, PE10, 40mm, Silastic 0.025" OD 125mm |
| S26C | Rat Duodenum Catheter-Upjohn design for use with S24A Bile Duct Catheter |
| S27 | Rat Jugular Vein Catheter-(modified Harms & Ojeda, for blood sampling, PE20 170mm, Silastic 0.037" OD 70mm |