Small Animal Ventilators Accessories
Flowmeter/Regulators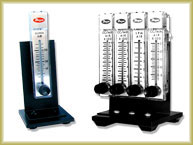 A regulated flow source is required for each external valve assembly attached to an SAR-830. Rotameter-type flowmeters are available as single units or as four-flowmeter manifolds (seen at right). The flowmeter manifolds can be used to mix anesthetic gasses, or as independent flowmeters for multiple valve assemblies. Digital mass flowmeters are also available where the highest accuracy is required. A metering valve should be ordered with each digital mass flowmeter.

MVA-4 Multi-Valve Adapter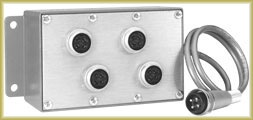 Allows up to four external valve assemblies to be attached to one SAR-830 series ventilator, for a total of five ventilator stations. Up to four CTP-VA-1 valve assemblies can be powered by one SAR-830 ventilator; two CTP-VA-3's, or one CTP-VA-4, due to power supply constraints. Other configurations of the SAR-830 and its associated valve assemblies are available on special order. Complete anesthesia setups, including Halothane or Isoflurane vaporizers, are also available.

CTP-VA-1 External Valve Assembly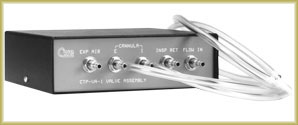 External valve assemblies are used to expand the volume range of SAR-830 series ventilators, or to add additional ventilator stations. The valve assembly connects to the ventilator through a supplied 12' cable, and acts as a slave to the SAR-830. The CTP-VA-1 (shown at right) is equivalent to the standard SAR-830 internal valves, and is used to create one or more additional ventilator stations. To connect more than one valve assembly, an MVA-4 electrical adapter is required (see below). A controlled flow source is required for each external valve assembly. Tubing and connectors are supplied.