Rat and Mouse Blood Pressure Amplifier, Manual Inflation
The IITC Life Science amplifier with manual inflation allows testing of a single animal at a time when measuring rat and/or mouse blood pressure. A noninvasive tail cuff method that is economical, validated and accurate.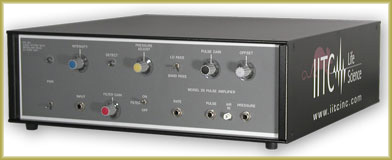 The IITC Life Science method requires minimal warming of rats and mice. The rodents should be warmed to an ambient temperature of 30 deg. c. for rats and 32 deg. c. for mice, which is well below the thermostress level (see NIBP Intro. page). It is suggested to use one of the IITC warming chambers.

View Product Sheet
Validated data:
Telemetry
Direct blood pressure
Data supplied:
Systolic
Mean
Diastolic
Heart Rate
Lowest temperature method
Indirect heating
MRI systems available
Animal color not a factor
USB Optional
RS232 Standard

Animals:
Mice
Rats
Cats
Dogs
Rabbits
Swine
Monkeys
Lifetime Warranty
A unique feature of IITC's amplifier is the artifact filter, which minimizes the breathing and movement artifacts, enabling the user to pick out the endpoints easily.
Analog output. The instrument has separate outputs for single channel and dual channel (superimposed and split) recording. The typical pulse amplitude is 100 mV to 1 V. The pressure amplitude is adjustable from one to five volts at 300 mmHg. If systolic and heart rate are desired, a single channel chart recorder #38L is sufficient. If the Mean and Diastolic are the desired reading then a dual channel chart recorder is recommended #45L or the IITC software package #31.
These units can be used in a manual, automatic, single, or multi-channel system.
Lifetime Warranty
120/240V
CE
| | |
| --- | --- |
| Part # | Description |
| 29 | Amplifier-Manual Inflation |